Children at BCI-ORPHANAGE holding STEP BY STEP 1 (January 2012)
They have just completed Step by STEP 3 (October 2013)
Our mission is to provide learning opportunities to underprivileged children in Cambodia that are not offered in state schools.
The ANA BANANA ENGLISH TUK-TUK SCHOOL is a mobile English School that travels to the surrounding villages of Siem Reap offering free English classes.
On Saturdays and Sundays, BUTTERFLY BOOKS MOBILE LIBRARY, also journeys to the poorer villages around Siem Reap and provides the children with 3 hours of leisurely reading time.
In addition, in Watdom Nak Village, Ana Margarida Alberty has founded BUTTERFLY EDUCATIONAL CENTER, a learning centre that offers FREE classes that include ENGLISH, SEWING, ARTS, IT & TRADITIONAL KHMER DANCES.
The children learn English using books written by Margarida AIberty, STEP by STEP 1, 2, 3 which reflect the children's lives in Cambodia.
Included in the program are ARTS and SEWING: The children learn how to make Rag dolls, Tote bags, fabric flowers, bottle carriers, aprons, key rings, purses, wallets, notebooks, pencil cases, book markers, portraits and paintings on canvas.
All of the artwork and handicrafts made by the children are sold to raise funds to buy food, school uniforms, books and other things they need. If you would like to make a purchase or simply make a donation you can visit the HANDICRAFTS and ART WORK STORE.

Margarida Alberty has written 3 books to teach English to the children, STEP by STEP Level 1, Level 2, and Level 3 and I'm currently writing Level 4.

These books contain photos of Cambodia and are adapted to the Cambodian reality, the children's lifestyle and their needs.
It's a fun way to learn as it's an exercise-book and a colouring book altogether. They just love it! The book covers were made with the children's drawings.
Each copy in black and white costs about $1.50 US dollars. Many copies are needed of these books to ensure that every child receives one.
For the little ones who don't know their "ABC's", we use a book that is bought in downtown Siem Reap. It costs $ US 0.40 each as well as a sticker album for them to learn vocabulary. Each copy costs $ US 0.50.
Any contribution towards school books or school materials is greatly appreciated.
Thanks for supporting this project!
The children design blank postcards and color them with drawings and collage. They sell them to the tourists for $1 US each.
The art work was framed and exhibited at the Sofitel Hotel and sold to raise money for the children at Smart Art School in Siem Reap. The children are so talented! It's a pleasure to teach them! The sewing crafts are sold in Australia through Cambodian Cocoon.
Teaching how to sew at BCI ORPHANAGE !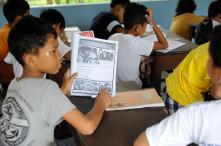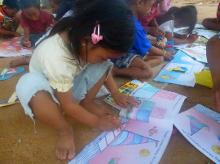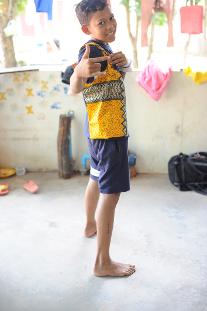 This DVD tells you a bit about of the work done the first time I volunteered in Cambodia! It was the most rewarding experience ever... ! The children taught me that we can be happy with so little!