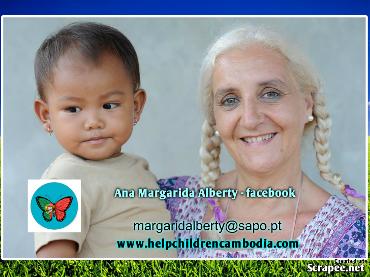 Welcome to HELP CHILDREN CAMBODIA
My name is Ana Margarida Alberty and I've been a passionate teacher all my life, having founded my own language school in Estoril, Portugal. www.margaridaschool.com.
In 2012 one of my ultimate dreams finally came true when I decided to take a month off and volunteer in Asia. I came across an organisation called Real Gap Experience and right away I fell in love with Cambodia. I spent an amazing 4 weeks in Siem Reap, going to a local Orphanage every day to teach English and Crafts to 30 lovely children who made me feel I had found another family away from home...
Since then I've been traveling to Cambodia twice a year and staying longer every time I go. I stay at a small Hotel in Siem Reap, (a 5 minute walk from downtown), called Petit Temple Hotel. Love it there.
I started this project, spending many days traveling around with a TUK TUK as I thought it was the best way to reach more families in need.
In the rice fields and in the floating villages people are so underprivileged. They live in very hard conditions, with no clothes, no beds, no adequate food and no drinkable water and no access to learning English. But they are all beautiful, always eager and happy to learn.
This is the most rewarding experience one can have....and we wish other people could have it too...
We are
working hard to make this cause known, to reach out to other groups or individuals who share our vision and wish to support this worthy cause.
Thank you!
Ana Margarida
If you would like to send donations or packages please send to the following address:
Butterfly Educational Centre
Watdomnak Village, Salakamreok Commune, Siem Reap City
Siem Reap Province
17252 Cambodia