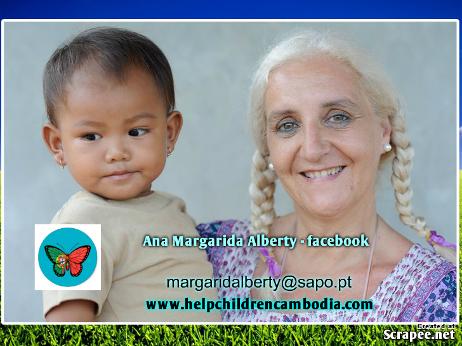 Welcome to HELP CHILDREN CAMBODIA
My name is Ana Margarida Alberty and I've been a passionate teacher all my life, having founded my own language school in Estoril, Portugal. www.margaridaschool.com.
In 2012 one of my ultimate dreams finally came true when I decided to take a month off and volunteer in Asia. I came across an organization called Real Gap Experience and right away I fell in love with Cambodia. I spent an amazing 4 weeks in Siem Reap, going to a local Orphanage every day, to teach English and Crafts to 30 lovely children, whom I fell in love with! Bridges Cambodia International (BCI-ORPHANAGE) became my second family far away from home...
Since then I've been travelling to Cambodia twice a year and staying longer every time I go. As I am on my own, I always stay at a small Hotel in Siem Reap, (a 5 minute drive from downtown), called Angkor Spirit Palace Hotel. The staff are very friendly there and I always get Room 205. It's my home in Cambodia! I spend my days travelling around with my TUK TUK ENGLISH SCHOOL, as I think it's the best way to reach many families in the countryside and visit the orphanages. I realized that the children in the rice fields and in the floating villages are really very, very poor, so underprivileged! They live in very hard conditions, with no clothes, no beds, no adequate food and no access to learning. But they are all beautiful, always eager and happy to learn. With my TUK TUK SCHOOL on wheels I enable learning to come to them as well as giving them a bit of joy and play time. I bring them pencils, colouring books, crayons, stickers, story books, toys, clothes, food and a lot of catchy songs they learn in a flash. I teach them English and Arts ! I also teach sewing and buy sewing machines! This is the most rewarding experience I've ever had in my life....and I wish other people could have it too...The purpose of this website is to help you, help me, help the Cambodian Children!
BUTTERFLY EDUCATIONAL CENTER is my newest project founded in February 2016 and I´m proud to also announce BUTTERFLY BOOKS , a mobile library and ANA BANANA´S TUK - TUK SCHOOL.
I 'm working hard to make this cause known, to reach out to other groups or individuals who share my vision. Whether you're ready to lend a hand or have photos or articles to share about Cambodian children, here's the place to do it. Thank you! Ana Margarida In Cambodia, my name is only ANA!
If you would like to send donations or packages please send to the following address
Watdomnak Village, Salakamreok Commune, Siem Reap City
Siem Reap Province
17252
Cambodia
Contact Vandy - 086 677 899
Join my tuk-tuk school project!
If you are new to this cause, I invite you to join me. I welcome new ideas and value enthusiasm from friends and volunteers, new and old.