Welcome to Help Children Cambodia
Help Children Cambodia is a private initiative founded by Ana Margarida Alberty that offers impoverished children educational activities 100% free. These extracurricular Activities include English, Arts & Crafts, IT , Sewing Music and Traditional Apsara Dance classes.
In addition to educating the children, we also provide families with basic supplies, like food, clothing, water, home repairs and in many cases employment.
Our mission aims to provide these children, who are so eager to learn, additional educational opportunities which are not offered in state schools. By acquiring knowledge and different skills, the children have more of a chance to find better jobs allowing them to rise above a life of extreme poverty that they presently live in, giving them wings to fly towards a brighter future.
For the latest updates you can follow us on Facebook at:
https://www.facebook.com/Butterfly-Educational-Center-wwwhelpchildrencambodiacom-132193047139987/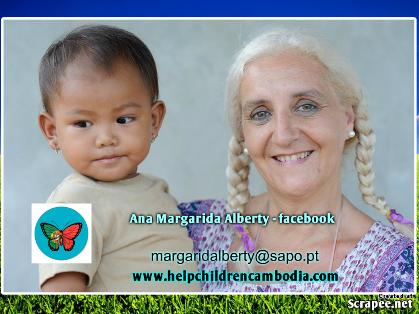 My name is Ana Margarida Alberty and I've been a passionate teacher all my life, having founded my own language school 40 years ago Margarida's School of Language & Arts in Estoril, Portugal. In 2012, I decided to embark on a new adventure to teach English to underprivileged children in Siem Reap, Cambodia which has been the most rewarding experience of my life. (Read more)